Honderd dagen na elkaar gelukkig zijn… Kan dat? Dat is de uitdaging die vele mensen in 2014 aangingen. Elke dag via Twitter of via Facebook of wat dan ook posten wat jouw gelukkig moment van de dag was en zien of je dit honderd dagen na elkaar aan kon.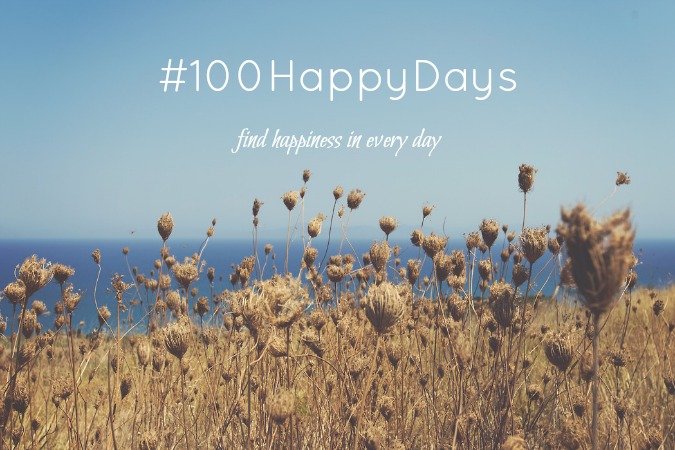 Ik deed alvast mee! Sommige dagen was het erg makkelijk, en wist ik meteen iets te posten. Andere dagen was het wat moeilijker, maar dit maakte dat ik toch bewuster was van hoe mijn leven er aan toe ging.
Zo'n 71% zou het halverwege de challenge meestal opgeven om gelukkige momenten op te noemen, meestal wegens tijdsgebrek. Heeft de mens dan geen tijd meer om gelukkig te zijn? Vaak zie ik wel op Twitter of Facebook de minder goede kanten van de dag passeren: "Lap, weer een boete!", "Ik heb een pot confituur gebroken en het is over de hele keuken uitgesmeerd.", "Ik heb mijn arm gebroken.", "Het is gedaan met mijn lief.", … Net op zulke momenten is het dan ook belangrijk om terug te kijken op je dag en het beste moment er uit te halen, al was het maar zo klein, al was het maar voor enkele minuten, er was vast en zeker een moment dat je je gelukkig voelde, toch?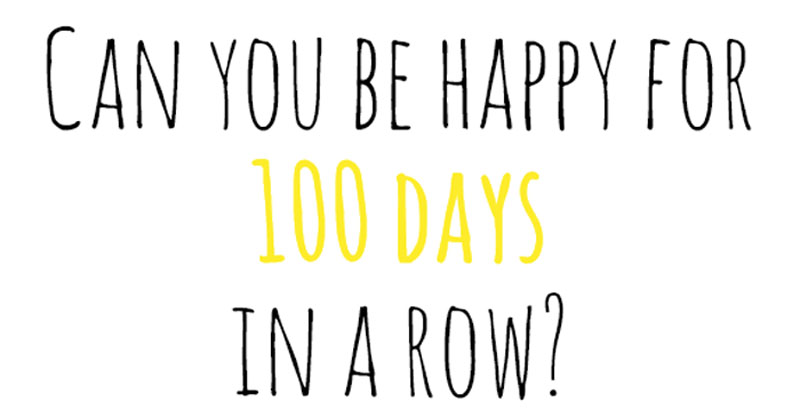 Wil je ook mee doen? Schrijf je dan hier in!
Mijn lijstje met 100 gelukkige momenten:
The hotel cleaners made a friend for my little wombat bear. #Bali #100happydays pic.twitter.com/q3YA2gs8jd

— Latcho Drom ✈ Davina (@LatchoDrom_me) March 22, 2014
Finding a really friendly taxi driver with very good English and a good mood in Bali. Day 2. #100happydays

— Latcho Drom ✈ Davina (@LatchoDrom_me) March 23, 2014
Day 3: since I was the only one doing a tour today at Lembongan Island… I just got a private tour! So cool! #100happydays

— Latcho Drom ✈ Davina (@LatchoDrom_me) March 24, 2014
Day 4: Witnessing a beautiful sunset while watching a kecak dance near the Uluwatu temple in Bali #100happydays pic.twitter.com/dJdzeMjstt

— Latcho Drom ✈ Davina (@LatchoDrom_me) March 26, 2014
Day 5: Cruising around in Bali on a motorcycle and see… rice fields and rice fields: peace itself! #100happydays

— Latcho Drom ✈ Davina (@LatchoDrom_me) March 26, 2014
Day 6: seeing fireflies late at night in the rice fields… in front of my bedrooms balcony #bali #100happydays

— Latcho Drom ✈ Davina (@LatchoDrom_me) March 27, 2014
This one was so big that it counts for day 7 & day 8 together: seeing the Ogoh Ogoh @ Tegalalang #bali #100happydays pic.twitter.com/9k9462SYyL

— Latcho Drom ✈ Davina (@LatchoDrom_me) March 30, 2014
Day 9 of the #100happydays challenge: eating rambutan fruit in #bali: It's like eating a huge lychee: yummy yummy in my tummy!!

— Latcho Drom ✈ Davina (@LatchoDrom_me) March 30, 2014
Day 10: Complete silence on Nyepi in Bali so the bad spirits think we aren't here. This should be done all over the world! #100happydays

— Latcho Drom ✈ Davina (@LatchoDrom_me) March 31, 2014
[youtube http://www.youtube.com/watch?v=y6Sxv-sUYtM&w=560&h=315]
Day 11: Treating myself on some beautiful Bali Souvenirs! #100happydays

— Latcho Drom ✈ Davina (@LatchoDrom_me) April 1, 2014
Day 12 (2 April): Saying goodbye in Bali was hard, but now I know truly beautiful people, outside AND inside, still exist. #100happydays

— Latcho Drom ✈ Davina (@LatchoDrom_me) April 4, 2014
Day 13 (3 April): I love having a wine seller as my roommate. She needed some help with tasting last night… #100happydays

— Latcho Drom ✈ Davina (@LatchoDrom_me) April 4, 2014
Day 14, enjoying a great coffee and a chocolate mud cake #100happydays #thecoffeeclub pic.twitter.com/PAkzQDwYu7

— Latcho Drom ✈ Davina (@LatchoDrom_me) April 4, 2014
Day 15, so many happy moments! Swimming in the rivers of Litchfield and seeing the waterfalls was amazing! #100happydays

— Latcho Drom ✈ Davina (@LatchoDrom_me) April 5, 2014
Yellow River in Kakadu and a lot of wildlife: lots of birds, crocks, wild horses, wallabies, dingo,… Need I say more? #100happydays

— Latcho Drom ✈ Davina (@LatchoDrom_me) April 6, 2014
Forgot my shoes on a tourbus.Thought I would never see them again! 5min. before I left Darwin I got thema back! #100happymoments

— Latcho Drom ✈ Davina (@LatchoDrom_me) April 8, 2014
Day 18: Found a new bag to carry all my souvenirs… The bag itself is also a souvenir 😀 #100happydays pic.twitter.com/RNDta9kNV4

— Latcho Drom ✈ Davina (@LatchoDrom_me) April 8, 2014
Is off to Uluru! Boy 4.30am is early! #100happymoments

— Latcho Drom ✈ Davina (@LatchoDrom_me) April 8, 2014
Day 20 (10 April): Sleeping in a swag under a clear star sky near Uluru. Seeing the milky way for the first time in my life! #100happydays

— Latcho Drom ✈ Davina (@LatchoDrom_me) April 13, 2014
Day 21 (11 April): Seeing Uluru at sunset…. together with some awesome people who I met on #TheRockTour #100happydays

— Latcho Drom ✈ Davina (@LatchoDrom_me) April 13, 2014
Day 22 (12 April): Just enjoying the beautiful scenery of the Red Centre on my 19h bus drive from Alice Springs to Adelaide. #100happydays

— Latcho Drom ✈ Davina (@LatchoDrom_me) April 13, 2014
Day 23: Some guy in the hostel hooked his hard drive to the tv and showed me the first new episode of Games of the Thrones #100happydays

— Latcho Drom ✈ Davina (@LatchoDrom_me) April 14, 2014
Day 24: Free pancakes in the hostel! Hooray 😀 #100happydays

— Latcho Drom ✈ Davina (@LatchoDrom_me) April 14, 2014
Day 25: Seeing dolphins during a boat trip in Adelaide! 😀 #100happydays

— Latcho Drom ✈ Davina (@LatchoDrom_me) April 15, 2014
Day 26: Did something spontaneous: went to a museum with a fellow backpacker I met in my hostel. Awesome! #100happydays

— Latcho Drom ✈ Davina (@LatchoDrom_me) April 16, 2014
Day 27:Had a great 'wildlife' day: saw sea lions, kangaroo's, koala's and even an echidna! Kangaroo Island is truly amazing! #100happydays

— Latcho Drom ✈ Davina (@LatchoDrom_me) April 17, 2014
Day 28: Since everything is closed in Adelaide… I just took a great looooooooong nap! #100happydays

— Latcho Drom ✈ Davina (@LatchoDrom_me) April 18, 2014
Day 28: Cold in Adelaide! Spoiled my cold feet today with a new pear of real Australian UGG's! #100happydays

— Latcho Drom ✈ Davina (@LatchoDrom_me) April 19, 2014
Got a chocolate egg on my Jetstar flight to Tasmania. Day 30 #100happydays

— Latcho Drom ✈ Davina (@LatchoDrom_me) April 20, 2014
Day 31: loving my new rental car… And its heating 😀 #100happydays pic.twitter.com/FZTeERKw68

— Latcho Drom ✈ Davina (@LatchoDrom_me) April 22, 2014
Day 32: Cataract gorge and all the beautiful walks surrounding the gorge. Took my breath away! #100happydays

— Latcho Drom ✈ Davina (@LatchoDrom_me) April 22, 2014
Day 33 (23 April): Impressed by Bay of Fires! #100happydays pic.twitter.com/qEdCiF5UMO

— Latcho Drom ✈ Davina (@LatchoDrom_me) April 25, 2014
Day 34: (24 April): Just me and my car… and some really loud music… cruising around in Tassie #100happydays pic.twitter.com/icQ3zz5nGm

— Latcho Drom ✈ Davina (@LatchoDrom_me) April 25, 2014
Day 35: Found a great girl with pink hair who joined me for a trip to lovely Richmond near Hobart. What a wonderful day! #100happydays

— Latcho Drom ✈ Davina (@LatchoDrom_me) April 25, 2014
Day 36 (26 April): After a 4 hours delay finally arriving in Melbourne. Felt like I came home again 🙂 #100happydays

— Latcho Drom ✈ Davina (@LatchoDrom_me) May 2, 2014
Day 37 (27 April): Celebrating the Dutch Kings Day with some Dutch girls in Melbourne. Hup Holland hup! #100happydays

— Latcho Drom ✈ Davina (@LatchoDrom_me) May 2, 2014
Day 38 (28 April): Taking a long nice bath (with a yummy eclair) when I arrived in Singapore from a long flight. #100happydays

— Latcho Drom ✈ Davina (@LatchoDrom_me) May 2, 2014
Day 39 (29 April): One day city trip in Singapore. Wauw, what an amazing architecture! #100happydays

— Latcho Drom ✈ Davina (@LatchoDrom_me) May 2, 2014
Day 40 (30/04): Back home in Belgium! Lots of tears at the airport… (also lots of luggage) #100happydays pic.twitter.com/2O6vkTd4ne

— Latcho Drom ✈ Davina (@LatchoDrom_me) May 2, 2014
Day 41 (1 May): Belgian chocolate… Need I say more? #100happydays

— Latcho Drom ✈ Davina (@LatchoDrom_me) May 2, 2014
Day 42 (2 May): Sleeping in my own bed again. #100happydays

— Latcho Drom ✈ Davina (@LatchoDrom_me) May 4, 2014
Day 43 (3 May): Friends and family giving me a welcome back surprise visit! #100happydays

— Latcho Drom ✈ Davina (@LatchoDrom_me) May 4, 2014
Day 44, enjoying a typical Sunday in Belgium: having a drink with the neighbour lady and a bicycle ride along the Schelde #100happydays

— Latcho Drom ✈ Davina (@LatchoDrom_me) May 4, 2014
Day 45: Asperges à la flamande. Mmmmm! #100happydays pic.twitter.com/oGsK8kr9db

— Latcho Drom ✈ Davina (@LatchoDrom_me) May 6, 2014
Day 46: Watching Eurosong and giving comments on the contestants together with my mum. Fun fun fun! #100happydays

— Latcho Drom ✈ Davina (@LatchoDrom_me) May 7, 2014
Day 47: Received a nice bottle perfume from my grandmother. She knows what a lady needs 😀 #100happydays

— Latcho Drom ✈ Davina (@LatchoDrom_me) May 7, 2014
Day 48: Being grateful for the invention of heating #100happydays And warm soup! *Freezing in Belgium!* Where is summer?

— Latcho Drom ✈ Davina (@LatchoDrom_me) May 8, 2014
Day 49 (9 May): Movie night! Watching all night long movies: great! (Although it did hurt a bit this morning at 8.30 am) #100happydays

— Latcho Drom ✈ Davina (@LatchoDrom_me) May 10, 2014
Day 50 (10 May): Could not stop laughing with the wonderful 'Kletswijven' theater piece of #VooruitDeinze

— Latcho Drom ✈ Davina (@LatchoDrom_me) May 11, 2014
Day 51: Enjoying this special Sunday on Mothers day with the family (and yummy yummy in my tummy a big brunch!) #100happydays

— Latcho Drom ✈ Davina (@LatchoDrom_me) May 11, 2014
Day 52: Oz wasn't exactly friendly to my body, but after one week paying some attention to my body: -2,1kg, hooray! #100happydays

— Latcho Drom ✈ Davina (@LatchoDrom_me) May 12, 2014
Day 53: Heavy rain all night and this morning. And now, almost 9pm and the sun is still shining. I can smell summer! #100happydays

— Latcho Drom ✈ Davina (@LatchoDrom_me) May 13, 2014
Day 54: Freaking out a bit, driving back on the road on the right side. But o so happy to drive again with my beloved VW Golf #100happydays

— Latcho Drom ✈ Davina (@LatchoDrom_me) May 14, 2014
Day 55: Still freezing. But loved the sun on my skin today #100happydays

— Latcho Drom ✈ Davina (@LatchoDrom_me) May 15, 2014
Day 56: Running is great when the sun is shining & the fields are full with wild flowers, cute baby donkeys & running horses. #100happydays

— Latcho Drom ✈ Davina (@LatchoDrom_me) May 16, 2014
Cruisin' around in my beloved Ghent, nice drinks with a great view and great company, yummy diner and a movie. Day 66 #100happydays

— Latcho Drom ✈ Davina (@LatchoDrom_me) May 17, 2014
Having my favorite food for dinner! Belgian chicory rolled in ham with a lovely cheese sauce and scalloped potatoes. #100happydays

— Latcho Drom ✈ Davina (@LatchoDrom_me) May 18, 2014
Day 59: Boy do I love running near the fields and the Schelde: saw a beautiful pheasant and some cute bunnies hopping around. #100happydays

— Latcho Drom ✈ Davina (@LatchoDrom_me) May 19, 2014
Day 60: Happy I could wear my summer dress today… that I bought around Christmas time in Australia #100happydays ♥☀

— Latcho Drom ✈ Davina (@LatchoDrom_me) May 20, 2014
Day 61: Every girl likes a new fresh haircut ☻ ✂ #100happydays

— Latcho Drom ✈ Davina (@LatchoDrom_me) May 21, 2014
Day 62: New phone! Feeling like a kid who just got a new toy 😀 #100happydays

— Latcho Drom ✈ Davina (@LatchoDrom_me) May 22, 2014
Day 63: Having a good talk with my brother on a sunny day #100happydays

— Latcho Drom ✈ Davina (@LatchoDrom_me) May 23, 2014
Day 64: Home made tapas with my Duthies! #100happydays *De drie A'tjes* Aussie memories ♡ pic.twitter.com/PD6qFZUW6r

— Latcho Drom ✈ Davina (@LatchoDrom_me) May 25, 2014
Day 65: Huge breakfast with my Dutchies, wine tasting after voting and a bicycle ride perfect for a sunny Sunday #100happydays

— Latcho Drom ✈ Davina (@LatchoDrom_me) May 27, 2014
Day 66 (26 May): One word: nap. Boy do I love my bed! #100happydays

— Latcho Drom ✈ Davina (@LatchoDrom_me) May 27, 2014
Day 67: How is it that smaller bites are more tasty? Yummy! #100happydays pic.twitter.com/m0vh3fjiEe

— Latcho Drom ✈ Davina (@LatchoDrom_me) May 27, 2014
Day 77: Girls night! <3 #100happydays

— Latcho Drom ✈ Davina (@LatchoDrom_me) May 29, 2014
Day 69: I adore my mum's kitchen! #100happydays

— Latcho Drom ✈ Davina (@LatchoDrom_me) May 29, 2014
Day 70: It's Friday! #100happydays pic.twitter.com/LhYvLRTAYl

— Latcho Drom ✈ Davina (@LatchoDrom_me) May 30, 2014
Day 71: Enjoying breakfast… Outside 😀 #100happydays

— Latcho Drom ✈ Davina (@LatchoDrom_me) May 31, 2014
Day 72: living in Belgium is…. #100happydays

— Latcho Drom ✈ Davina (@LatchoDrom_me) June 1, 2014
… Going to the 'frituur' #100happydays day 72 pic.twitter.com/IRTRGSEU24

— Latcho Drom ✈ Davina (@LatchoDrom_me) June 1, 2014
I love my grandmother – day 73 – so lucky to have her! #100happydays

— Latcho Drom ✈ Davina (@LatchoDrom_me) June 4, 2014
Day 74: lunch with a friend in my lovely city Ghent ♥ #100happydays

— Latcho Drom ✈ Davina (@LatchoDrom_me) June 4, 2014
My happy moment today on day 75: watching tv with my mum underneath a cosy blanket #100happydays

— Latcho Drom ✈ Davina (@LatchoDrom_me) June 4, 2014
Day 76: Nice weather, great run along the Schelde and yummy tapas. Meeting nice people. Perfect day! #100happydays

— Latcho Drom ✈ Davina (@LatchoDrom_me) June 5, 2014
It's not Bondi but hey, I've got a little bit of Bondi with me + the sun = #100happydays pic.twitter.com/JUNxiLx9Qn

— Latcho Drom ✈ Davina (@LatchoDrom_me) June 6, 2014
Home alone is… Making myself a lovely summer salad with grey shrimps and goat cheese. Mmmm! pic.twitter.com/uii1O5ZXH2

— Latcho Drom ✈ Davina (@LatchoDrom_me) June 6, 2014
Day 78 (June 7th): (Mostly) ☀ day at Ostend Beach – Nice drinks – great company – Chinese dinner: lekkel! #100happydays

— Latcho Drom ✈ Davina (@LatchoDrom_me) June 8, 2014
Still my favourite pic! Happy father's day! #100happydays pic.twitter.com/9tyP0Eik8O

— Latcho Drom ✈ Davina (@LatchoDrom_me) June 8, 2014
Day 80: Fun and cocktails with the girls at the Sinksefeesten #100happydays

— Latcho Drom ✈ Davina (@LatchoDrom_me) June 9, 2014
Day 81 (10/6) Brussels! Felt like being home again or was I a tourist in my own country? Either way: fun fun fun! #100happydays

— Latcho Drom ✈ Davina (@LatchoDrom_me) June 12, 2014
Day 82: Discovered I can play UNO on my phone. So addictive! #100happydays

— Latcho Drom ✈ Davina (@LatchoDrom_me) June 12, 2014
Go J.Lo! WK opening, almost as fancy as the opening of the Olympics. #100happydays pic.twitter.com/W17yzHfMfR

— Latcho Drom ✈ Davina (@LatchoDrom_me) June 12, 2014
Day 84: I love special late evening openings: shopping time! #ZEB #100happydays

— Latcho Drom ✈ Davina (@LatchoDrom_me) June 13, 2014
Day 85: early celebration of my b-day with yummy cake, Champagne, family & bff #100happydays pic.twitter.com/iiiPi7vwyl

— Latcho Drom ✈ Davina (@LatchoDrom_me) June 15, 2014
Day 86 (15/06): enjoying my b-day with tapas, cake, Champagne and my Dutch girlies in my city Ghent #100happydays pic.twitter.com/qC1wjewzjJ

— Latcho Drom ✈ Davina (@LatchoDrom_me) June 18, 2014
Day 87 (16/06): First mussels of the year! Mmmm #100happydays pic.twitter.com/LaGWMyflJf

— Latcho Drom ✈ Davina (@LatchoDrom_me) June 18, 2014
Day 88 (17/06): seeing the #reddevils win our first WK game in my hometown football #GhelamcoArena #100happydays pic.twitter.com/QDhs7fx8G5

— Latcho Drom ✈ Davina (@LatchoDrom_me) June 18, 2014
My dessert for tonight #100happydays pic.twitter.com/TAsunnHhMn

— Latcho Drom ✈ Davina (@LatchoDrom_me) June 18, 2014
Day 89: the cute funny dances of the Columbians made my day #100happydays #wk2014

— Latcho Drom ✈ Davina (@LatchoDrom_me) June 19, 2014
Day 91: listening to the newest cd of Gabriel Rios. Me like! #100happydays

— Latcho Drom ✈ Davina (@LatchoDrom_me) June 21, 2014
Day 92: little outing with my bff to the IKEA! #dreamingofmyownplace #100happydays

— Latcho Drom ✈ Davina (@LatchoDrom_me) June 21, 2014
Day 93: Our #RodeDuivels scoring at the #WorldCup2014 Finally!!

— Latcho Drom ✈ Davina (@LatchoDrom_me) June 22, 2014
Bxl, je t'aime <3 #100happydays … Day 94

— Latcho Drom ✈ Davina (@LatchoDrom_me) June 24, 2014
Day 95 (23/06): Finally: tv and internet are back alive! Amazing how quickly you'll start to miss these things! #100happydays

— Latcho Drom ✈ Davina (@LatchoDrom_me) June 26, 2014
Day 96 (24/06): My mum's lasagna. Nothing more, nothing less. Mmmm! #100happydays

— Latcho Drom ✈ Davina (@LatchoDrom_me) June 26, 2014
Day 97: Great food and soccer. What do we need more? #100happydays pic.twitter.com/AZrXNA0NYC

— Latcho Drom ✈ Davina (@LatchoDrom_me) June 26, 2014
Day 98: Still happy for our #reddevils #100happydays pic.twitter.com/4tGS64nbZE

— Latcho Drom ✈ Davina (@LatchoDrom_me) June 27, 2014
Day 99: Summer BBQ… in the rain… but oh so much fun! #100happydays #VosselarePut #DeLeie

— Latcho Drom ✈ Davina (@LatchoDrom_me) June 28, 2014
Day 100!!! Which I celebrated today at Colour Café. Great vibe, yummy food… Loved Gabriel Rios! #100happydays

— Latcho Drom ✈ Davina (@LatchoDrom_me) June 29, 2014